Interesting topic to address "The natural course of nonoperatively treated rotator cuff tears: an 8.8-year follow-up"
Dr. Moosmayer et al.,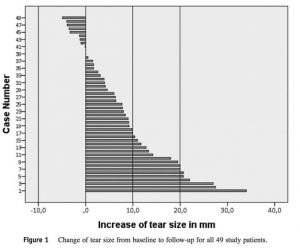 assessed the anatomic tear development and its relationship to the functional outcome at 8.8- year follow-up.
An increase of tear size was found in the majority of cases, but most of them were below 10 mm, and they even found small decreases in 9 cases. Again, this report supports non-operative treatment should be considered a primary treatment for rotator cuff tears with less than 3 cm, no involvement of the subscapularis, and absence of advanced muscle atrophy and degeneration.